Disclosure: Some of the links below may be affiliate links. That means, I may earn money or products from the companies mentioned in this post. Read my full disclosure here.
I recently read The Journals of Jim Elliot, edited by Elisabeth Elliot, and was reminded again that one of our "heroes" of the faith struggled with sin, doubt, and the frailty of life. Born in 1927, Jim Elliot is most famous for his death at the hands of the very people he and several other missionaries were attempting to reach with the Gospel. From 1948 until his death in 1955, he regularly journaled about his Bible studies, family life, relationship with Elisabeth Elliot, and his own favorite quotes and books. He wrestled with decisions like whether to remain single or marry, where in the world he should serve as a missionary, and his own fleshly desires and sins. I encourage you to read the journal for yourself, especially due to Jim's wonderful Bible commentary, but I've included here fifteen of my favorite Jim Elliot quotes with my own thoughts on each one.
*I've included page numbers for reference. My printing of Jim Elliot's journals is from 1993, so the numbers may be different in other versions*
1. So in spiritual refreshment I can get bits of nourishment along the way from others, but I cannot get abundance – over and above profit from my brethren. I must get from my own labor and study those things which will be gain to me in this soul's building.

pg 64
God provides us with a blessing through others, especially in difficult seasons. During times of sickness or trial, we can receive refreshment and encouragement from the church and other believers. But, as a commentary on his reading of Deuteronomy 23:24-25, Jim Elliot encourages himself to seek long-term gain and building up in the faith on his own. We can't constantly rely on the words of others to refresh, but must dig deeply into the Word.
2. To the Christian nothing is commonplace; everything is somehow miraculous.

pg 124
Included within a few short notes on art, Jim states that Christianity liberates art. Everything is miraculous because creation points to a perfect Creator who miraculously spoke the world into existence. Earthly beauty can only be a representation of some greater and more wonderful thing. Without the true, perfect form there is no standard for anything else. The representations we see in art draw us to the One who is pure and holy and beautiful.
3. It reminds Him, that Name of His, what He has set to do, to deliver His chosen. Jesus the Name that charms our fears, that bids our sorrows cease, 'tis music in this sinner's ears' [From 'O for a Thousand Tongues to Sing,' Charles Wesley].

pg 127
The name Jehovah in Hosea 12:5 is called God's memorial name. God does not lie and will fulfill His promises to us, including those in His very name. It is also a memorial to us though; a reminder in speaking His name that He will deliver. He is faithful!
4. What a Savior. When He knew that God had given all things into His hands, He took the feet of His loved into those hands and washed them.

pg 129
The God who has authority over all (Ephesians 1:22-23) humbled Himself in the perfect picture of love. "By this we know love, that he laid down his life for us, and we ought to lay down our lives for the brothers." 1 John 3:16
5. Today I learned the meaning of that word, 'For of Him and through Him and unto Him are all things' (Rom. 11:36) as it applies to circumstances. Every surrounding factor in my environment is from Him. The administration of it to my personality is through His doing. The effect of it in me and as my person reverberates the experience is unto Him, for His glory. I am not, therefore, called to be a slave of circumstance, for circumstance is His servant on my behalf, doing for me what He would do were He here to do it. In being His servant for my good, circumstance becomes also my servant, and from this time henceforth I shall be a fool for doubting.

pg 171
"Circumstance is His servant on my behalf…" Oh, how this would change our day, each mundane moment, if we viewed circumstances as gifts from God, as additional opportunities to give Him glory. Additional opportunities to grow in Christlikeness. And, if we truly believe that God is sovereign, of course, we should live each moment in this way. We aren't slaves to the moments, we are servants of the triune God, the King of heaven and earth.
6. One of the greatest blessing of heaven is the appreciation of heaven on earth – Ephesian truth. He is no fool who gives what he cannot keep to gain that which he cannot lose. Luke 16:9: '…that, when it shall fail, they may receive you into everlasting habitations.'

pg 174
This is probably the most famous Jim Elliot quote and he wrote it before he had even decided to travel to Ecuador. He had no clue what God's plan for his life held, but, in studying the Word of God, He knew that His eyes were to look to heaven. Every day, may we grow in our appreciation for things eternal. May you have "the eyes of your hearts enlightened, that you may know what is the hope to which he has called you…" Ephesians 1:18
7. This word propitiation [ref to 1 John 2:1-2] does not mean that the whole world is reconciled to God. It is as Romans 3:25, Christ is as a mercy seat set up whereat, and only whereat, God may meet the sinner.

pg 219
Christ meets us. What a beautiful picture of grace we see in 1 John 2:1-2 and Romans 3:25. In 3:23-24 we see that there is no distinction among us, we are all sinners. But, God in His grace meets us, justifying us as a gift through Christ. What a blessed Savior.
8. God did not elect because He foreknew some man would believe. He elected (and glorified) because He in His one act of eternal being, is cognizant at once of the idea within Himself and its final accomplishment beyond all the working out of it. He begins, sustains, carries out, and fulfills His every decree – from our point of view. In Him, however, it is a single act, even as though all my life were a single breath.

pg 248
This passage is a beautiful description of the greatness of God. May this knowledge of who God is (and who we aren't) bring us great comfort when we doubt His plan or our emotions cause us to question our salvation. God is in control.
9. He who maketh Ease his god, Sufficiency his altar, Pleasure his priest, and Time his offering knows not what man is born for.

pg 278
I'm always tempted by social media ads offering the next greatest thing – "how to get your house clean AND keep it clean! How to raise kids who will listen every time! Work out for 30 minutes and see results for a lifetime!" Convenience, ease, and, to be honest, laziness are all things I find myself striving toward when God created me to do work for His glory. We've been accustomed to such a negative view of work that we miss out on the blessings it can offer as we use it to further God's kingdom.
10. At the Jordan crossing, the ark of the covenant served where the rod of judgment did at the Red Sea. At the Red Sea it was deliverance from Egypt; at Jordan it was preservation unto Canaan. In neither case was it the goodness of Israel that procured the working of God. At Jordan each man was not judged by his merits as he passed over, rather the ark stood in the river bottom, and it was the covenant sign which held back the waters. One man among them may have been rebellious or a murmurer, but God respected His covenant, not the state of Israel. Happy that people know a God that 'keepeth covenant.' For with believers as with Israel, God acts in accordance with the set of His purpose, not with the state of His people. As long as the ark remained in the river bed, the people were safe, preserved from flood waters (v. 15).

pg 279
Praise be to God for His faithfulness toward us, even when we are unfaithful! What assurance this means for our salvation! "…if we are faithless, he remains faithful— for he cannot deny himself." – 2 Timothy 2:13
11. All things are tremendously significant that relate to a man; nothing he can do will make life or any of its parts inconsequential. This is a happy fact for the righteous; it is a terrible one for a sinner. To say of a deed, a thought, an experience, 'It is nothing,' would be to say, 'It is not.'

pg 306
I love my mug from the Daily Grace Co. that says "today matters for eternity" and my sign hanging in our homeschool room reminding me to "take captive each mundane moment." Both an encouragement and a challenge, may everything we think, say, and do be for God's glory.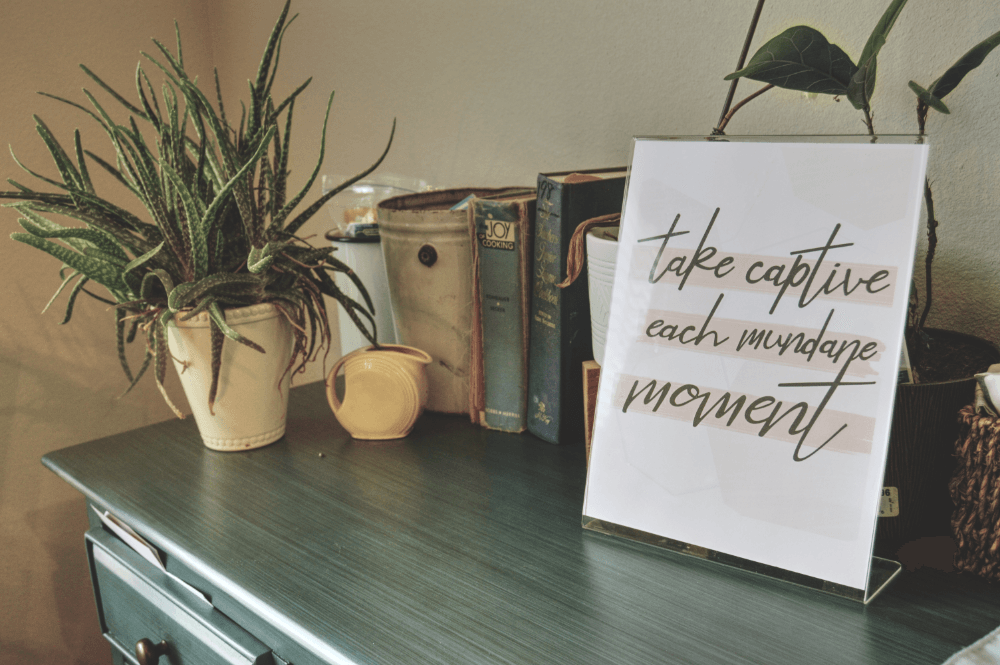 12. This writing is part of thee, and I am glad to write; not that there is any purpose in it for others – it is simply part of Life, and Life I have come to love.

pg 356
I started blogging in 2017 when I became a stay-at-home mom. Reading and writing had always been essential parts of my life, but I then found that I desperately needed a more formal outlet to push myself intellectually. And, yet, even in the midst of multiple breaks from blogging, I still wrote in notebooks, random docs on my computer, and in notes on my phone. Praise God for the many creative ways He gives us to think about and worship Him!
13. I may not 'love' in the absolute sense. Only God does so. But I may, and must, love in that essence of attitude of which I am capable in emulating God not measured in terms of smallness or immensity, but in terms of sincerity ('unfeigned love of the brethren') and obedience ('the new commandment…').

pg 419
Jim Elliot wrote this in response to a quote from C.S. Lewis' book, Perelandra. "How can one love anything more? That would be like saying that a thing was bigger than itself." Love is not a thing to be measured, but a quality demonstrated through sincerity and obedience. "If you love me, you will keep my commandments." John 14:15 "Not everyone who says to me, 'Lord, Lord,' will enter the kingdom of heaven, but the one who does the will of my Father who is in heaven. On that day many will say to me, 'Lord, Lord, did we not prophesy in your name, and cast out demons in your name, and do many mighty works in your name?' And then will I declare to them, 'I never knew you; depart from me, you workers of lawlessness.' – Matthew 7:21-23
14. O God, having made me thus and led me thus, enable me to endure Thy making and Thy leading.

pg 422
During times of hardship, especially during infertility and then a difficult pregnancy, I found myself questioning God's path for my life. I grieved my frail body. I was angry about my circumstances. And yet, God remained sovereign, loving, and faithful. May we always remember that the same power that raised Christ from the dead now works in us to enable us to perform the good works God has set before us.
15. But I cannot write how I know or wherein lies the basis for my faith, no more than I could satisfactorily write my reasons for not being engaged four months ago. And from this I believe in the inner word of the Spirit to the surrendered will. He molds that will to His own within the framework of the will so that the will of the individual is the directed yet still the director; so that 'we have the mind of Christ.'

pg 247
What a beautiful picture of faith and sanctification. May we pray daily that our will is molded to His.
---
Although the above were my 15 favorite quotes from Jim Elliot's journal, I thought it was fitting to include his final entry before establishing a camp on the Curaray River in Equador. His last entry before dying as a martyr was one of struggling with sin. January 8th, 1956, eight days after writing these lines, Jim and four other men were speared to death. Jim Elliot's last words in his journal are as follows:
A month of temptation. Satan and the flesh have been on me hard. How God holds my soul in His life and permits one with such wretchedness to continue in His service I cannot tell. Oh, it has been hard…I have been very low inside me struggling and casting myself hourly on Christ for help. Marriage is divorce from the privacy a man loves, but there is some privacy nothing can share. It is the knowledge of a sinful heart.

These are the days of the New Year's believers' conference on the Sermon on the Mount. Yesterday I preached and was helped on 'whoever looks on a woman…'!

'Let spirit conquer though the flesh conspire.'

pg 475