Disclosure: Some of the links below may be affiliate links. That means, I may earn money or products from the companies mentioned in this post. Read my full disclosure here.
For us, Easter is not just another holiday. In the same way that I wanted to start important traditions for Advent and the Christmas season, I want my sons to grow up learning about why we celebrate Easter. Here are some of the best Christ-centered Easter activities for toddlers that I've found, including activities and non-candy Easter basket ideas.
Easter Activities For Toddlers
Easter Jesse Tree: We use a Jesse tree to celebrate advent, but Jennifer at Intentional Traditions has a beautiful Passover and Easter Jesse Tree set! You can download a devotional booklet, activities for your families, and purchase an ornament set. I love this idea to prepare your family for Easter.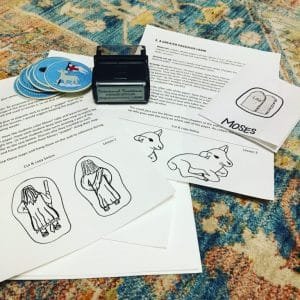 Empty Tomb Rolls: This is a great hands-on activity to teach children of all ages the story of Easter.  If you need a gluten-free option, she includes a link to that recipe as well!
Resurrection Eggs: Similar to an advent calendar, these eggs contain a small trinket inside that you can use to teach your child the Easter story.  There are small pieces in this set, so make sure to supervise young children.
Resurrection Stones:  Story stones are a wonderful way to encourage little imaginations, but they can also be used to provide a visual aid to stories.  You can teach your child the Easter story with these stones, then mix them up and let your child place them in the correct order.  You could also use the stones as prompts to encourage older kids to tell the story on their own!
Make Your Own Easter Story Stones: Get your kids even more involved with this tutorial for making your own Easter story stones!
A Sense of the Resurrection: an Easter Experience for Families: This is an ebook with 12 hands-on activities that teach children the Easter story in a way that engages all of their senses.  Not all of these may be age-appropriate Easter activities for toddlers, but they are great ideas to begin slowly incorporating.
Jesus, Bread, and Easter: Teach your child the story of Easter from the last supper through the resurrection.  I love that this tradition isn't an activity that you set up, complete, and then go on with your life.  As Abigail says in the post,
"This is the little "project" that isn't. It isn't anything at all, but real life. Real bread that we were making, a real meal that we were eating, to remind us of our real Savior. This isn't a show put on for kids. This isn't different from the truth that we live in every single day. This is His body, broken for us."
Holy Week Family Worship Guide
For even more activities, devotions, songs, and prayers, I created a free family worship guide with my friend Dani at Living Free Indeed. This beautiful resource allows you and your family to make each day of Holy Week, the week leading up to Easter, more meaningful. This is a great tradition to start with your family!
Christ-Centered (non-candy) Easter Basket Ideas:
I know many people don't give Easter baskets as they feel it takes away from the real meaning of Easter. Due to past struggles with food-intolerances, we previously were unable to give our oldest the typical Easter treats. During that time, I searched for non-candy ideas that would also point him to Christ.  Here are my favorites!
Holy Week: An Emotions Primer: This is my absolute favorite book for preschoolers about Easter. The author and illustrator of our favorite book, First Bible Basics: A Counting Primer, published this book recently.  The illustrations and overall design of these books are incredible.
Seeds of Easter: Seeds Family Worship has several great CDs.  We love listening to their music throughout the day, as their songs are completely based on Bible verses.  These songs about the Easter story would also be wonderful to listen to during Holy Week.
The Jesus Storybook Bible, Gift Edition: I've mentioned before that we enjoy using this Bible, and used it with our Advent Jesse tree.  This beautiful gift edition would be perfect for an Easter basket.
Really Woolly Easter Celebration: This activity set is listed for ages 3 and up, but there are many 2-year-olds who would enjoy the sticker activities.  You can use the sticker activity book to tell the story of Easter.
The Tale of Three Trees: We haven't read this book yet, but I am constantly seeing wonderful reviews.  Because of this, I'm considering buying this one for my son this year.
Psalms of Praise: A Movement Primer: This is another fun book from the same author as Holy Week. We love all the movements!
Redeem Your Routines
If you want to grow your own faith this Easter or lent, consider learning how to meditate on the Word as you go about your busy day. Redeeming Routines are mobile guides to help busy mamas think deeply on the Scripture, praise, confess, and apply the Word. Check out this short (promise!) video to learn more.
What Do You Think?
What are your favorite Christ-centered Easter activities for toddlers?  Do you give your children Easter baskets?  If so, what do you typically put in them?