Disclosure: Some of the links below may be affiliate links. That means, I may earn money or products from the companies mentioned in this post. Read my full disclosure here.
When we adopted our son, I found myself as a new stay at home mom overwhelmed by motherhood. Tantrums, jet lag, and loneliness all culminated in the perfect storm. Thankfully, I wasn't the first mother to experience stress and was able to turn to others for advice and support. If you're feeling overwhelmed being a stay at home mom, I pray these resources are encouraging and comforting. We are in this together, mama.
Looking to Christ When You're Feeling Overwhelmed Being a Stay at Home Mom
I started this blog to encourage other moms the same way a friend encouraged me to find my purpose in Christ instead of in motherhood. Not only is Jesus worthy of our full attention but we find both the perfect example of obedience and our source of joy when we keep our eyes fixed on Him. The overwhelmed stay at home mom needs only diligently seek Him when exhausted or anxious. Start now by opening your Bible.
3 Bible Verses for the Overwhelmed Mom
"Why are you cast down, O my soul, 

and why are you in turmoil within me? H

ope in God; for I shall again praise him, 

my salvation and my God." Psalm 42:11 ESV

"…from the end of the earth I call to you 

when my heart is faint. L

ead me to the rock 

that is higher than I…" Psalm 61:2 ESV

"Likewise the Spirit helps us in our weakness. For we do not know what to pray for as we ought, but the Spirit himself intercedes for us with groanings too deep for words. 

And he who searches hearts knows what is the mind of the Spirit, because the Spirit intercedes for the saints according to the will of God. 

And we know that for those who love God all things work together for good, for those who are called according to his purpose. 

For those whom he foreknew he also predestined to be conformed to the image of his Son, in order that he might be the firstborn among many brothers." Romans 8:26-29 ESV
Practical Advice for When You're Feeling Overwhelmed Being a Stay at Home Mom
Whether you are a new stay at home mom or just a mom in a stressful season, God has provided us with the support of others. I am thankful for the moms who poured into my life when I was an overwhelmed new mom to a toddler. I collected several practical tips that I am excited to share with you. At the end of this post, you'll find a free downloadable printable of the Bible verses and advice for you to keep or give to another mom. This is a very long list, so be sure to bookmark or pin it!
**Before reading this list and feeling more overwhelmed, take this advice from Jennifer Love to heart.**
"Don't collect everyone's ideas and try to do them all! Listen to others, but submit to God if you should implement or change anything, and then take time to listen! 🙂 What we dream up for ourselves (doing it All!) is usually just more overwhelming and God wants us to be present and peaceful within what we have been given."
Read more of Jennifer's thoughts on incorporating advice at How I Recovered from an Encouraging Mom Conference & the Myth of "Only" 2 Kids.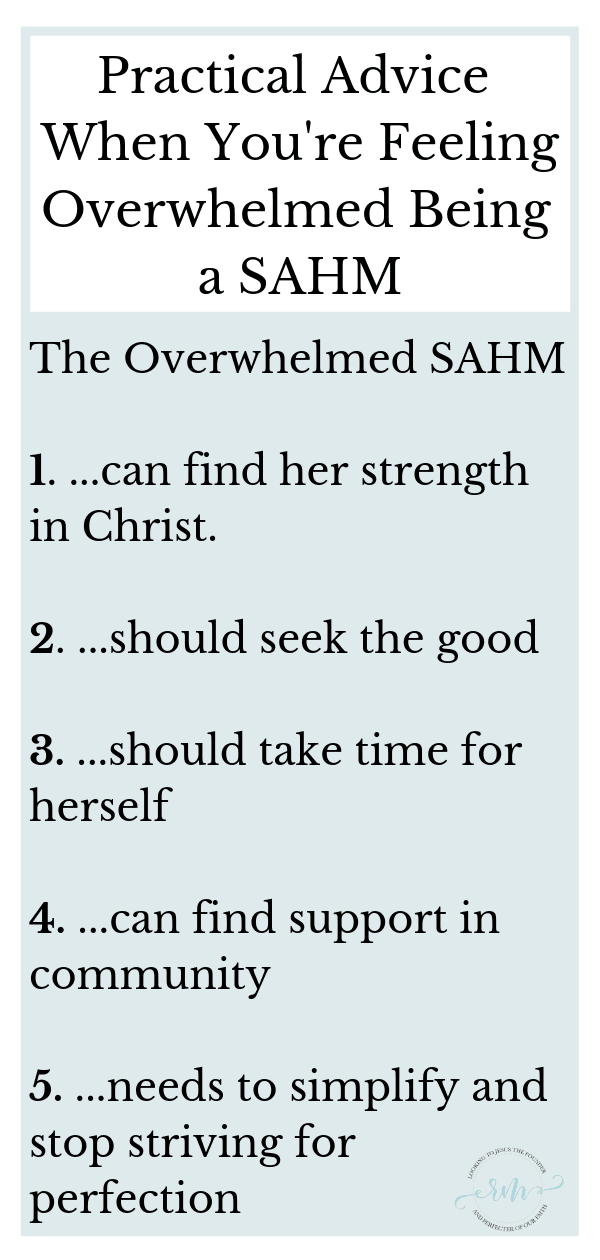 1. The Overwhelmed Stay at Home Mom Can Find Her Strength in Christ
2. The Overwhelmed Stay at Home Mom Should Seek the Good
"In the midst of your frustration, I encourage you to embrace your beautiful moments. I encourage you to recognize you have what it takes. Take moments to pause when you get overwhelmed…and ask where's the beauty in this messy moment? I can assure you if you ask the Lord, He will answer…EACH moment an opportunity for the Lord to teach you how to be the best version of you! It gets no more beautiful than THIS!" from Victoria Riollano, Dear Tired Mom, Embrace the Beautiful Mess!
"Lean on other moms, remember the big picture- moments are more important than the mess. When all else fails put on a tv show and stand on your front porch and eat a pop tart." From Danell Steffen, Faith Plus Family
"Get down on their level. By this, I think it is important that parents get eye level with their children sometimes. I have found in situations whether it is to correct or affirm, me being eye to eye with my sons has allowed them to focus on me and the situation at hand. Rough times are easier to diffuse because I can still communicate love by just taking an extra moment to bend down and look into their eyes." From 

Angel Penn
3. The Overwhelmed Stay at Home Mom Should Take Time for Herself
"I have my kids have a 30 minute alone session in their rooms every day so that I could also have 30 min alone for bible time, shut my eyes time, reading, cleaning…whatever the case it is my 30 to do whatever I wanted or needed ALONE. it works great for everyone to be separated for a bit." From Tina Crawford, My Penned Heart
"Guarding your heart isn't only about what you keep out, it's about what you put in. It's so important to find out what feeds your soul and weave it into the rhythms of your life. I have a good, great and ecstatic list. The good are things I can daily include in my life: coffee in my favorite cup, the music that I play in the car or while cooking, a scented candle, a spray of perfume. The great are things that might be able to happen weekly or fortnightly: a walk on the beach, a bath, a coffee out with a friend. Ecstatic are less frequent because of time/cost so for me that might be a facial or going to a conference etc. Everyone's list will look different because what refreshes us depends on our makeup. But this approach to guarding my heart, thinking of what fuels my body, mind, and spirit and paying attention to how God has made ME, has helped me keep balanced in the giving out of motherhood. When I start to feel run down I have usually been neglecting to weave my list into my days." From Aimee Walker, On Becoming Esther

"I taught my 5-year-old son to read the clock so he would stay in his room and play quietly until 7 am when my twins were infants and he was an early riser." 

From 

Heather Hart, Books, Faith, and Coffee
"During your week always have one activity for YOU to look forward to- it might be a mom's day out or something as simple as a relaxing bath for an hour with no interruptions. Of course, the person relieving you of your mom duties needs to know how important they are to your plan for it to work." From Christy Reid
"Taking from 10 to 20 minutes of time for myself. A pedicure, manicure, doing my hair, walking, read a good book… just me time. To recharge the energy and continue the day with our kids." From Tayrina González, His Purpose in Me
"Just like scheduling weekly dates is good for our marriage, scheduling mom breaks is good for our emotions and perspective. Banking in a time slot every week to get out on our own and just breathe and move at our own pace is refreshing. My husband supports me taking a little time on Wednesdays to do whatever sounds fun or relaxing. Sometimes it's coffee with a friend, or browsing a favorite store, or journaling. It took ages to give myself permission for that, but so glad it's part of my routine now! Wish I'd started when we still had all 5 kiddos at home." From Joanna Teigen, Growing Home Together
"Make time for yourself! It may seem like there's no way to do that, but just 5-10 minutes of uninterrupted quiet time throughout the day can make a huge difference in your mood. It also breaks up the monotony of all your home duties." From Alisa Nicaud, Flourishing Today
"Spare some time for your interests too in the busy motherhood schedule. It can be reading a book you enjoy, walking alone, a dance class, shopping alone, a day with friends- anything that can refresh your mind and can calm your overwhelming life." Read more from How to Be a Happy Stay-at-Home Mom by Sara Benny
4. The Overwhelmed Stay at Home Mom Can Find Support in Community
5. The Overwhelmed Stay at Home Mom Needs to Simplify and Stop Striving for Perfection
Important Note: Stay at Home Moms and Depression
Sometimes feeling overwhelmed or thinking you have "stay at home mom burnout" may actually be depression. Please be aware of the signs of depression and seek help if you think they apply to you. Depression is very real.
A Prayer for Overwhelmed Moms
I pray that you were encouraged by all the advice and encouragement from these mamas. When you feel overwhelm sets in, read through these words, pray this prayer, and turn your attention to Christ.
Lord,

When I'm feeling overwhelmed being a stay at home mom, may I look to you as my strength and encouragement. Give me the faith and energy needed to do all things for Your glory. Surround me with others who can direct me to the Gospel, the truths I need to be reminded of each day. When I'm overwhelmed by motherhood, help me find the good in each moment that You have created for me. Help me not strive for perfection, but Christlikeness, simplifying my life of anything unnecessary.

In Jesus' Precious Name,

Amen.
Printable Verses, Advice, and Prayer for Overwhelmed Moms
If you've been feeling overwhelmed being a stay-at-home mom, I pray these resources have helped you. To make this encouragement more convenient, click here to download this printable version. If you know a stay-at-home mom who needs help, be sure to send her this post or print off the free printable for her!